Contact us
---
Fill out the form with any questions, comments, concerns and we'll be sure to get back to you shortly!
Our Process Serving Company is Conveniently Located in Phoenix, Gilbert and Chandler AZ.
We are the kind of Arizona process server that delivers services to a multitude of cities within Maricopa County and Pinal County. We currently provide service of process in Scottsdale, Mesa, Tempe, Chandler, Gilbert, and Phoenix, Arizona. We are licensed to serve process throughout the entire state of Arizona. Please visit our Areas We Serve page for a complete listing of the cities that we serve.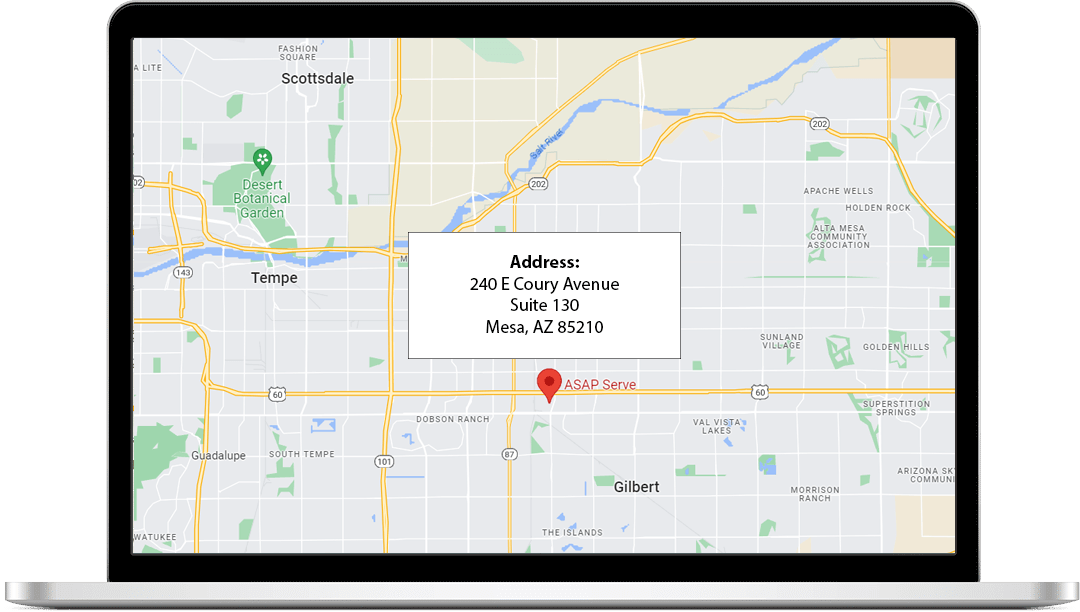 ASAP Serve, LLC
240 E Coury Avenue
Suite 130
Mesa, AZ 85210
USA
We are here to answer your calls from 8am to 6pm.
Office Hours: 9am to 5pm M-F
2820 S Alma School Rd #18 Chandler, AZ 85286 USA
By appointment only
14245 South 48th St Suite 148 Phoenix, AZ 85044 USA
By appointment only
2509 N Campbell Ave Suite 236 Tucson, AZ 85719 USA
By appointment only
ROUTINE SERVICE OF PROCESS – All service of process out within 3 days, GUARANTEED.  While in almost all instances we have it out quicker than 3 days, we have to set the guarantee somewhere.
Rush service available in all cities
Skiptracing: We find people for service of process reasons.
Covering every city in Maricopa and Pinal Counties
We work for Individuals, Attorneys & Companies
All major credit cards Accepted.
Please insert check or mail to:
240 E Coury Avenue,
Suite 130
Mesa, AZ 85210