Questions You Should Ask before Hiring a Process Server
Hiring a process server can improve the strength of your case. An Arizona process server will ensure that proper service of process takes place to notify parties to the case of the legal action, to call on witnesses to testify, to subpoena evidence, and more. Without proper service of process, your case could be delayed or even derailed.
So how do you know that you are hiring the right process serving company to protect and strengthen your case? Here are a few questions you should ask before hiring a process server in Arizona or anywhere else: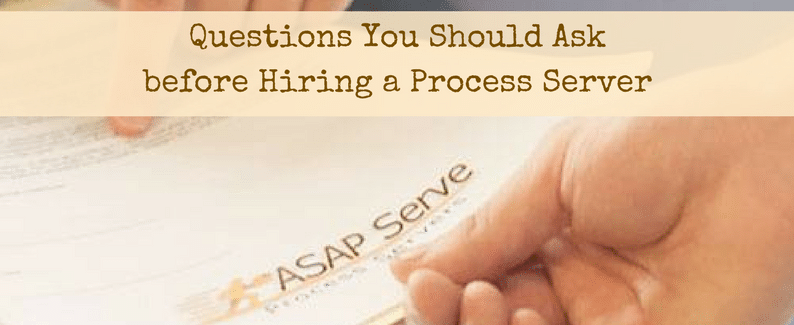 Who serves the papers?
In Arizona, only certified officers of the Superior Court are allowed to perform service of process, other than a sheriff's deputy. So you can't just have your brother, Joe, deliver papers and expect that to count. If you are hiring a process serving company in Arizona, you need to ensure that they aren't sending the equivalent of brother Joe, such as a mail clerk or a day laborer. Every person who serves papers should be certified by the Arizona Superior Court.
How do I know where things are in the process?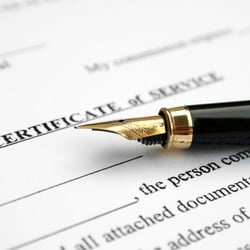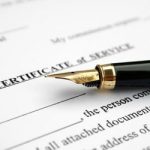 It's not always easy to serve a defendant or other party to a legal case – particularly if they know they are going to be served and have something to lose. Therefore, you may be left wondering if the person has been found and whether service of process has been completed. A good process serving company near Phoenix will have a system in place to let you know where things stand in the process. For example, some companies use a web-based application that notifies you when your request has been received and then lets you track the process of your request. You'll know when contact has been made and when service has been completed. You'll also get proof of service.
How long does it take to complete service of process?
In many legal cases, time is of the essence. You may be up against a legal timeline to serve papers, or you may need to file a motion with the court by a certain date. Completing service of process in a timely manner is essential to the success of your legal action, and a good process server knows this and has the tools and techniques to find people and complete service fast. In most cases, while time is of the essence, hiring a Phoenix process serving company promptly can save the consumer money. Most companies will have both routine and rush serves. At ASAP Serve, our routine serves are out for service within 2-3 days, while rush serves are out for service same or next day.
What tools do you have for locating people?
Some people will go to great lengths to avoid getting served papers about a lawsuit or other legal action. A good process server will have ways of dealing with these situations, and you should ask about the tools and techniques they use before hiring them. You never want to get involved with a company that uses unethical or illegal means, but you also want to use a company that is aggressive and gets results. It's best to spell out what their processes are before you get involved with the wrong company.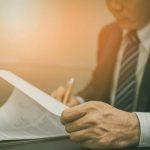 A process server should be included as an important part of your legal team. However, you shouldn't sign up with just any process serving company. You need to take your time and do your research to find a reputable company that is going to get results without jeopardizing your case. When you do find a company you think you like, take the time to ask these and other questions to make sure it's a good fit.
ASAP Serve is a reputable process serving company in Arizona that provides speedy service of process for all types of legal cases. We have an easy-to-use online system that makes processing your request easy. Just contact us online using our contact form, or call us in Arizona to get the process started. One of our process servers would also be happy to provide more information about our company or to answer any questions you may have before we begin the job. Call us in Arizona to learn more!
Published By – ASAP Serve, LLC
1837 S Mesa Dr C102
Mesa, AZ 85210
Office: 480-821-1552
2820 S Alma School Rd, #18
Chandler, AZ 85286
Office: 480-351-1743
14245 S 48th St #148
Phoenix, AZ 85044
Office: 480-845-0728
2509 N Campbell Ave #236
Tucson, AZ 85719
Office: (520) 448-4929
*ALL LOCATIONS BY APPOINTMENT ONLY