The Significant Role Process Server Certification Plays in the Legal World
Process servers fulfill one of the most important roles in the legal process. They deliver documents and notices to defendants, witnesses, and other parties to either begin a legal process or to help it move forward. Without this proper process of service, the legal case could be stalled or jeopardized.
In many municipalities, process servers in Mesa are required to become certified and licensed in order to practice. In others, certification is just a professional credential that shows that you are dealing with a reputable server. Here are some of the reasons why certification is so important for process servers: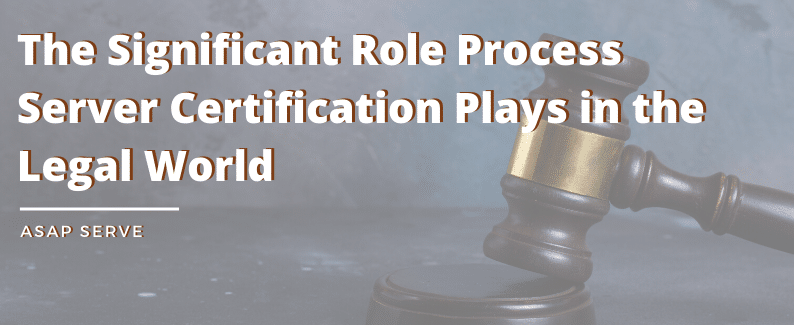 Ensures Appropriate Training is Completed
Before a process server can become certified, they must complete a certain amount of training through a specific agency or educational institution. This requirement ensures that every certified process server has received the appropriate training to perform their job properly and legally. When you hire a certified process server, you shouldn't have to worry that the person is going to cut corners that could put your case in jeopardy.
Requires Ongoing Education
Certification does not last forever. Once a process server becomes certified, they do not continue to be certified indefinitely. They have to renew their certification, and in order to do so, they have to complete a certain amount of continuing education.
This requirement ensures that process servers continue to remain abreast of the law (which can change quickly) and of best practices for their profession. That means that, even if you hire someone who has been in the field for decades, you can be sure they won't make an unintended mistake because they are adhering to old guidelines. You can ensure that they handle the process of service appropriately in every case.
Ensures Compliance with Local Laws
Every municipality has different rules and regulations for how process of service must be completed and for how it impacts the legal process. If the process server violates any of these rules, it could delay or jeopardize your case.
By hiring a certified process server, you can ensure that the person is completely trained on local laws and is up-to-date on any recent changes so that all rules are followed carefully. Certified process servers in Mesa have put too much time and resources into their training and certification to risk playing it fast and loose with the rules. You can be sure of proper compliance when you hire a certified server.
Ensures a Proper Start to the Legal Process
A lot of things can delay or derail your legal proceeding, such as paperwork that is not filled out correctly, paperwork that is submitted late, or a process server breaking the rules. When you hire a certified process server, you ensure that you are hiring a professional who will follow all the rules, complete the process of service in a timely manner, and give your case the proper start. You don't have to worry that mistakes will be made or that anything will be allowed to fall between the cracks.
Experience, training, and professional certification matter when you are hiring someone for a job as important as process of service. Don't trust this task to just anyone on your team or anyone you know. Professional servers can find people who are missing, can track down people who are actively trying to avoid service, and can provide proof of timely service to expedite your case and make your life much easier.
ASAP Serve provides fast and accurate process of service in Mesa. Our servers are experienced, trained, and certified, so you can be sure that you are getting professional service when you hire our company. We provide process of service for all kinds of cases, including divorce, adoption, personal injury, child support, child custody, and more. We also offer court document filing and a court research service. Our goal is to help you move your case forward smoothly and quickly. We have earned a reputation as one of the best process serving companies in Mesa thanks to our commitment to professionalism and the highest quality service. Call us today to discuss your needs for process of service, or fill out our online request form.
Published By – ASAP Serve, LLC
1837 S Mesa Dr C102
Mesa, AZ 85210
Office: 480-821-1552
2820 S Alma School Rd, #18
Chandler, AZ 85286
Office: 480-351-1743
14245 S 48th St #148
Phoenix, AZ 85044
Office: 480-845-0728
2509 N Campbell Ave #236
Tucson, AZ 85719
Office: (520) 448-4929