Who is Allowed to Serve My Legal Documents
Process of service is an important part of the legal process. It ensures that the defendant in your case gets the proper notification of the case being brought against them, whether that is a divorce, a lawsuit, or a collections action. It is important that process of service takes place according to a certain set of rules and within a certain timeline. This process ensures that all people receive equal protection and enjoy the same rights under the law.
Because there are so many rules surrounding process of service, you may think that only certain people are qualified to perform it. However, the truth is that anyone can perform process of service so long as they do it correctly and can provide proof of it.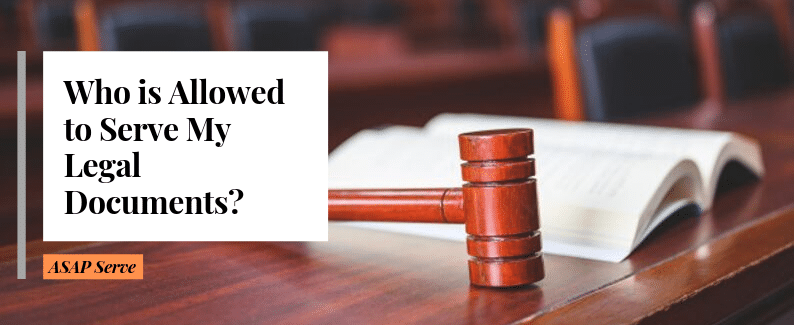 Before you decide to serve papers yourself or ask a friend to do it, keep in mind that any mistakes can jeopardize your case. For example, the judge may order you to perform service again, which can start the clock over. If you are suing, that could mean you run out of time under the statute of limitations and can no longer bring your case. In some cases, the judge may just throw out your case entirely.
You can pay the sheriff's office or police department to perform service, but these professionals are limited also. Police officers and sheriff's deputies typically only make a certain number of attempts to perform service and then they quit. So if they can't find a person at home, for example, service won't be performed. If the person can't be found, don't expect a police officer or deputy to take the extra steps to find them.
In almost all cases, you are better off hiring a professional process server for your case. Here are a few reasons why:
Procedural Confidence
When you hire a professional process server in Arizona, you can be sure that process of service will be completed on deadline and that all protocol will be followed precisely. The server will follow all the rules for delivering the documents and will provide proof of service. The server will also find the person quickly so that your case can more forward in a timely manner.
You never have to worry about your case being undermined by logistical details or errors when you hire a professional server. You can have confidence knowing that a professional is handling everything on your behalf and that you'll get the results you want.
Stay Informed
You never have to wonder about the status of your case when you hire an Arizona professional legal process server. The best process serving companies provide status updates. You can check in online to find out if service has been attempted, when it has been completed, and other updates.
Having the ability to check in like this will assuage your anxiety during the process. Plus, you can get information as soon as it's available. You don't have to wait for someone to call you or mail you a letter.
Find Missing People
Some people go to extreme lengths to avoid being found when they know that they are being sued. Or when they know they are going to be part of some other legal action, such as a divorce or child support hearing. They might leave town, or they might move within town and make sure that no one has their new address or other contact information. Some will even don disguises to avoid the process server.
If you are up against this situation, you need someone with special skills. You need a process server that specializes in skip tracing, which is designed to find people who either can't or don't want to be found. These servers have special tools, strategies, and skills to help them find these people and successfully deliver court documents, allowing your case to move forward.
If you need process of service in Mesa or the surrounding area, call ASAP Serve to get professional, timely, and dependable service. We handle service for all types of cases, including lawsuits, divorces, child paternity, child custody, child support, personal injury, and more. To get started, just fill out the form on our site or contact us to speak to one of our friendly representatives. You'll get the service you need fast.
Published By – ASAP Serve, LLC
1837 S Mesa Dr C102
Mesa, AZ 85210
Office: 480-821-1552
2820 S Alma School Rd, #18
Chandler, AZ 85286
Office: 480-351-1743
14245 S 48th St #148
Phoenix, AZ 85044
Office: 480-845-0728
2509 N Campbell Ave #236
Tucson, AZ 85719
Office: (520) 448-4929