4 Reasons Why a Process Server Might Come in Handy
Service of process is an important part of many legal proceedings. If you are divorcing someone, suing someone, or starting some other legal proceeding against someone, you will need to serve them with official paperwork notifying them of the action against them. Most people hire a process server for this part of the proceeding, but some try to handle it themselves or through some alternate means.
Here are four reasons why you should hire a process server to handle this for you instead: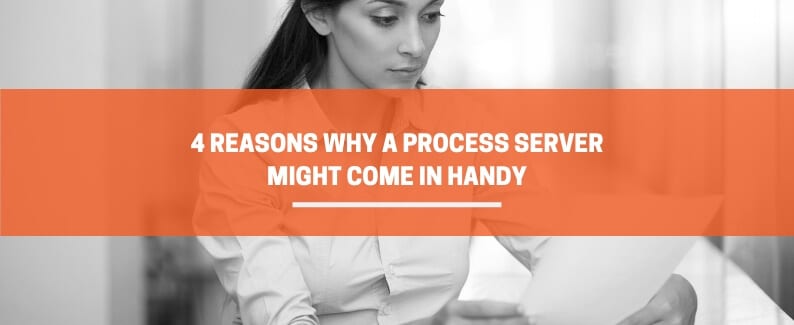 You Need Fast Service
It can take awhile to track down someone you want to sue or divorce. When people know that you have to formally serve them with notice to begin the proceeding, they buy themselves some time by making it hard to find them. Some people might just avoid answering the phone or answering the door, but others will take it to extremes and make it downright impossible to find them. All of this searching adds time to your proceedings.
When you need fast service, the best thing you can do is hire a process server. A professional process server has tried and true methods for finding people, for serving them quickly, and for delivering the needed proof. Your legal proceeding will not be delayed by the service of process when you hire a professional.
You Need Indisputable Evidence
You can serve papers to the defendant in your claim yourself through a variety of means. You can send it by registered mail. In some jurisdictions, you can even hand it off to a neighbor or roommate if you don't see the person yourself.
However, you need to show proof of service, or else the defendant can claim some error and throw your whole case into question. Even the smallest error in the delivery or in the paperwork can undermine your case. A professional process server will provide indisputable proof of service so that your case can move forward quickly and confidently.
You Have a Complex Case
Perhaps you are suing someone who lives in another state or country. Or maybe you have identified several defendants, and they are all in different locations. Maybe you are suing a large corporation, or maybe you are naming a government official in your case. If there is any complexity in your case, you will need the help of a professional.
An experienced process server can handle any type of case, no matter how complex. The professional will ensure proper service with acceptable proof, no matter the defendant and no matter the location.
You Can't Find the Defendant
There are many reasons why you may not be able to find a person you need to bring legal action against. You may have long lost touch with the person and don't know where they are – they may even have died. In some cases, the person may have intentionally moved or tried to go off the grid to avoid being found.
A good process server with experience will know how to find these people and to serve them. A professional process server is like an investigator. They have tools and techniques to find people, and then they know how to serve them even when they are trying to avoid it.
Service of process isn't just a logistical technicality in your legal case. It is the essential start to it. You should always hire a professional process server to find the defendant and deliver the legal documents. You'll ensure proper service in a timely manner, and you'll make your whole legal process much easier.
ASAP Serve can help you get the process of service you need in Arizona. We handle all types of cases, including complex cases and those involving missing defendants. We are known for our success with skip tracing, and we always provide the documentation needed for service of process in court. We work with individuals, law firms, corporations, and more. You can quickly begin your request by using our online form, or you can call us to discuss your needs in person. Trust your case to the professionals with a reputation for fast service and consistent results. Call us today.
Published By – ASAP Serve, LLC
1837 S Mesa Dr C102
Mesa, AZ 85210
Office: 480-821-1552
2820 S Alma School Rd, #18
Chandler, AZ 85286
Office: 480-351-1743
14245 S 48th St #148
Phoenix, AZ 85044
Office: 480-845-0728
2509 N Campbell Ave #236
Tucson, AZ 85719
Office: (520) 448-4929
*ALL LOCATIONS BY APPOINTMENT ONLY