The Major Importance of Process Servers in the Legal World
Process servers are very important in the legal world, but they often don't get a lot of attention. They are portrayed in sensational ways in the media, yet they are sometimes seen as clerical or administrative staff by those in the legal profession. The truth is that many legal proceedings would come to a stop if there were no process servers.
Here's a look at what process servers in Mesa do and why they are so important to the legal world: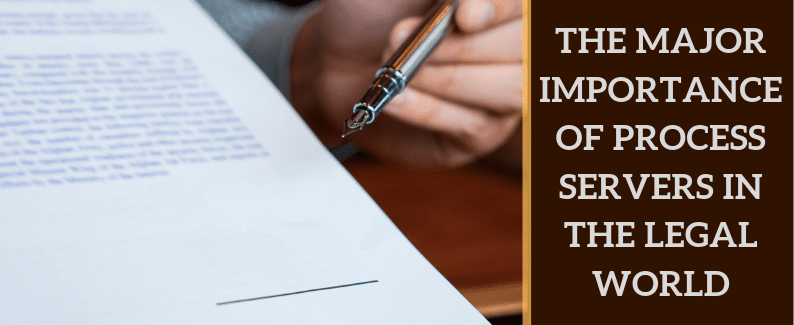 Ensure Proper Legal Service
In order for your legal proceeding to move forward, you have to give notice to the defendant by way of process of service. You can do this yourself, but it's better to hire a professional process server who knows the rules and regulations. If you do not serve the defendant properly or in a timely manner, your case cannot move forward. If you make any mistakes, you can jeopardize your case.
A professional process server in Mesa will ensure that your defendant is served properly and will provide evidence of service. You will be able to move your case forward, and you'll have peace of mind.
Find People Quickly
When someone knows you want to sue them, they are going to become real scarce real fast. They may even go to great lengths to not be found, such as moving or changing their name. You can spend a great deal of time and money trying to find these people or trying to pin them down long enough to serve them legal papers.
A Mesa professional process server has access to numerous tools that can help them find people fast. They also know effective strategies for serving people, even when they take extraordinary measures to elude process of service.
Help Unearth Documents and Information
Process servers in Mesa don't just deliver papers to legal defendants. They can also help you to find key documents or evidence for your case. You will need this information for your court proceedings, and you will need to have it by a certain deadline.
Process servers have a variety of tools that can help them find documents and evidence that you need for your case. They are able to work quickly so they can find what you need by your deadline.
Ensure that You Don't Make Any Mistakes
Any mistakes you make in your process of service can set your case back. You will have to start over, which will move back all your timelines. In some cases, depending on the circumstances, mistakes you make in process of service could even derail your case or result in charges against you.
By hiring a professional process server in Mesa, you protect yourself from such consequences. Trained process servers know how to perform process of service without making any mistakes that could impact your case.
Protect You from Violence
Some people will do anything to keep from being served the legal papers that they know will move forward the claim against them. That includes threatening violence against you or actually committing it. Hiring a professional process server near Mesa can protect you from any violence. You will remove yourself from the situation completely. Process servers know what measures to take to protect themselves, so they will ensure that the situation remains safe for all.
Don't try to save yourself a couple of bucks by attempting to perform process of service yourself. By hiring an experienced Mesa process server with the right training, you can ensure that your papers are processed quickly and correctly, and you can protect yourself from any potentially negative consequences from mistakes or violence. You'll also get the information you need quickly.
ASAP Serve offers process of service in Mesa and the surrounding area. Our trained servers handle cases including lawsuits, child custody disputes, adoption, personal injury, and more. Our servers in Mesa go to prisons, business, homes, and more. Our skilled team knows how to find people quickly and perform service of process accurately. We also perform court document filing, court research service, and more. Just fill out the form on our site to get started, or contact us by phone to talk with a representative about your request. We'll complete your process of service quickly and legally.
Published By – ASAP Serve, LLC
1837 S Mesa Dr C102
Mesa, AZ 85210
Office: 480-821-1552
2820 S Alma School Rd, #18
Chandler, AZ 85286
Office: 480-351-1743
14245 S 48th St #148
Phoenix, AZ 85044
Office: 480-845-0728
2509 N Campbell Ave #236
Tucson, AZ 85719
Office: (520) 448-4929