Small Claims Court Process Serving: What's the Difference?
You don't always have to go to court and spend thousands of dollars on an attorney to get the resolution you need. You may be able to go to small claims court to sue someone for money they owe, to resolve a dispute with your landlord, or to handle other kinds of cases.
As with any other legal proceeding, you will need to provide process of service to the other people in the case before it can move forward. However, there are some differences with small claims court that you may want to understand before you choose this option for your case.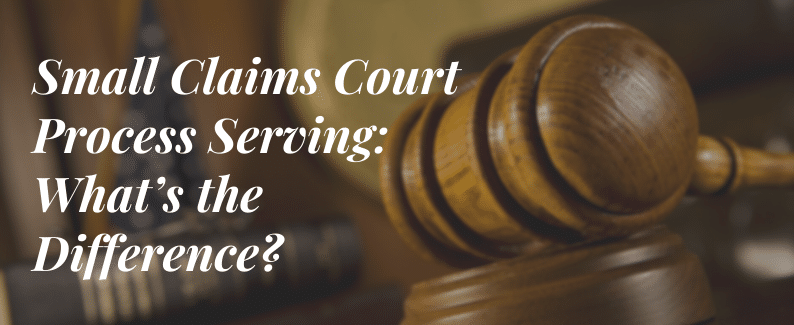 Cases Handles in Small Claims Court
To start, you can't bring just any case to small claims court. Typically, these courts handle only cases with lower dollar amounts – thus the name, small claims court. The specific dollar amount may vary, depending on your jurisdiction, so you should check before you attempt to file an action. The cases typically involve only a few thousand dollars or less.
Small claims courts also handle specific types of cases. They tend to see a lot of cases involving tenant and landlord disputes, as well as those involving small debts. You are specifically barred from bringing some types of cases to small claims court, such as medical malpractice cases.
Expect to deal with scheduling issues in small claims court also. These courts deal with a high volume of cases, so you may have to wait a long time to get on the schedule or you may have less time in court to argue your case.
Service and Representation
In small claims court, you would serve as your own lawyer. Though you may not have gone to law school or passed the Bar, you will still be expected to follow the rules of the court and the law. You will need to spend some time gathering evidence, determining the right forms to use, and putting together the right documentation.
Just like with a legal action brought before any other court, you will also need to provide service of process to notify the other party (or parties) of the action being taken against them. You can perform this service yourself, such as by handing the papers to the person directly or by sending them certified mail (if allowed).
If there are multiple people involved in your case, you will need to ensure proper service of process for each person. You cannot serve papers to a group, and you cannot serve papers to one person and expect word to get around. You cannot even serve papers to one address if the individuals live together – you still have to serve those papers individually to each person at the same address.
Your case can be compromised or even dismissed if you do not perform process of service correctly. Therefore, it is highly advisable that you hire a professional process server, even for low-value cases that you will argue yourself in small claims court. There are too many things that can go wrong, including serving to the wrong person, failing to get proper documentation for service, missing the deadline, or using inappropriate tactics to serve someone.
Service will be further complicated if the person knows you are trying to serve them and is avoiding you.
Professional process serving companies in Arizona have the training and experience to know how to find people quickly to perform service legally. When you hire a professional, you don't have to worry that service won't be done, and you can rest easy knowing that you'll have all the documentation you need to move your case forward.
In Mesa, ASAP Serve provides professional service of process, court document delivery, court document filing, court research service, and more. We have a professional process server for any need, including personal injury, child custody, child support, landlord disputes, and more. We can serve defendants in cases, subpoenas, and more. We have the knowledge and tools to get the results you need quickly. We work with individuals, law firms, and businesses. Just fill out the form on our site to tell us your needs, or call us in Mesa today. We'll help you move your case forward quickly.
Published By – ASAP Serve, LLC
1837 S Mesa Dr C102
Mesa, AZ 85210
Office: 480-821-1552
2820 S Alma School Rd, #18
Chandler, AZ 85286
Office: 480-351-1743
14245 S 48th St #148
Phoenix, AZ 85044
Office: 480-845-0728
2509 N Campbell Ave #236
Tucson, AZ 85719
Office: (520) 448-4929