5 Steps to Serving Child Support Papers in Arizona
In an ideal world, two parents would separate, and they would have an amicable agreement about where the child spends time and the other parent would pay an appropriate amount of financial support to provide for the child's needs. But we don't live in an ideal world. Not only do many parents end up fighting over how much child support should be paid, but some parents actively avoid paying the amount that is determined by the attorneys or the courts. They may need to be taken to court to make them pay up, and that involves completing service of process, which can be tricky on your own.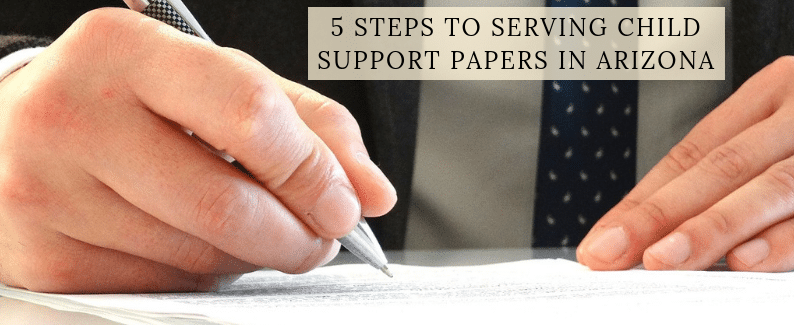 Hiring a child support process server can help you track down the non-paying parent and get the legal process moving. Here's the who, what, when, how, and where that make up the five steps to serving child support papers in Arizona:
Who Can Serve?
One parent cannot serve the other with child support papers in Arizona. Only "disinterested parties" can serve them. This includes people who are not involved in or interested in the outcome of the case, so that means that you can't get your burly uncle Joe to serve the papers either. You need an objective person who is over 18 to serve the papers. In Arizona, the person also has to be certified, so you need a professional process server or a sheriff's deputy.
It's always best to hire a child support process server who has experience with these kinds of cases since these servers know the laws surrounding these cases and have a few tricks for tracking down slippery parents.
What to Serve?
Typically, in a child support case, the other parent should be served a copy of the summons and a copy of the joint preliminary injunction if one was filed. If your pursuit of child support is in conjunction with pursuit of custody, the other parent will also need to be served a copy of the complaint for custody or for paternity. Make sure you are working with a process serving company who has experience serving child custody cases and/or paternity cases.
When to Serve?
When you need to complete service of process will depend upon the case and the timeline set by the court. Typically, the documents have to be served within 120 days of filing your complaint.
If you can't complete service of process – for example, because you can't track down the other parent – you can petition the court for an extension. If you don't get the extension and don't meet the deadline, you will have to re-file the complaint and start all over.
How to Serve?
The process server must give the documents to the other parent in person. It is not acceptable to mail the documents, to leave them on the person's door, or to leave them with another person, and a reputable child support process server knows this. Professionals have tricks and tools to find elusive parents and to serve them, even if they are actively trying to avoid being served. Professionals also know how to provide documentation that service of process has been completed.
In some cases, substitute service may be permitted, such as a good process company will know what papers need to be personally served and what papers can be sub-served. Service by publication may be permitted but only with a court order.
Where to File?
The other parent can be served the child support complaint anywhere, but the papers must be filed appropriately. The affidavit and the original summons must be filed with the court. The affidavit or proof of service documents when, where, and how the complaint was served to the other parent. A process serving company may also have a proprietary form for showing proof of service, and the court should accept that, as well.
Following the proper steps to serving the other parent is essential to the success of a child custody case. Hiring a professional process server can ensure that all these steps are met and that the case proceeds without interruption.
ASAP Serve completes service of process for all types of cases in Arizona, including child custody and support cases. A child support or child custody process server will track down the other parent in the case, complete service quickly, and provide proof of service. You just need to fill out the service request on our website to get started. You can also call us in Arizona to learn more or to talk about the particular needs of your case.
Published By – ASAP Serve, LLC
1837 S Mesa Dr C102
Mesa, AZ 85210
Office: 480-821-1552
2820 S Alma School Rd, #18
Chandler, AZ 85286
Office: 480-351-1743
14245 S 48th St #148
Phoenix, AZ 85044
Office: 480-845-0728
2509 N Campbell Ave #236
Tucson, AZ 85719
Office: (520) 448-4929
*ALL LOCATIONS BY APPOINTMENT ONLY