The Essential Role a Process Server Plays in Serving Divorce Papers
Mesa process servers play an important role in the legal process. They serve official notice to plaintiffs in legal actions so that the case may move forward. Without that notice, the case can stagnate and even become derailed. Process servers make sure that a case moves quickly and has a strong start.
A Chandler process server plays an especially important role in a divorce. The process can be emotionally fraught and intense, and a professional server helps to make it a bit easier. In particular, a professional server knows how to get the timing right for process of service during a divorce. Here are some of the things a server does to make the divorce process a bit easier: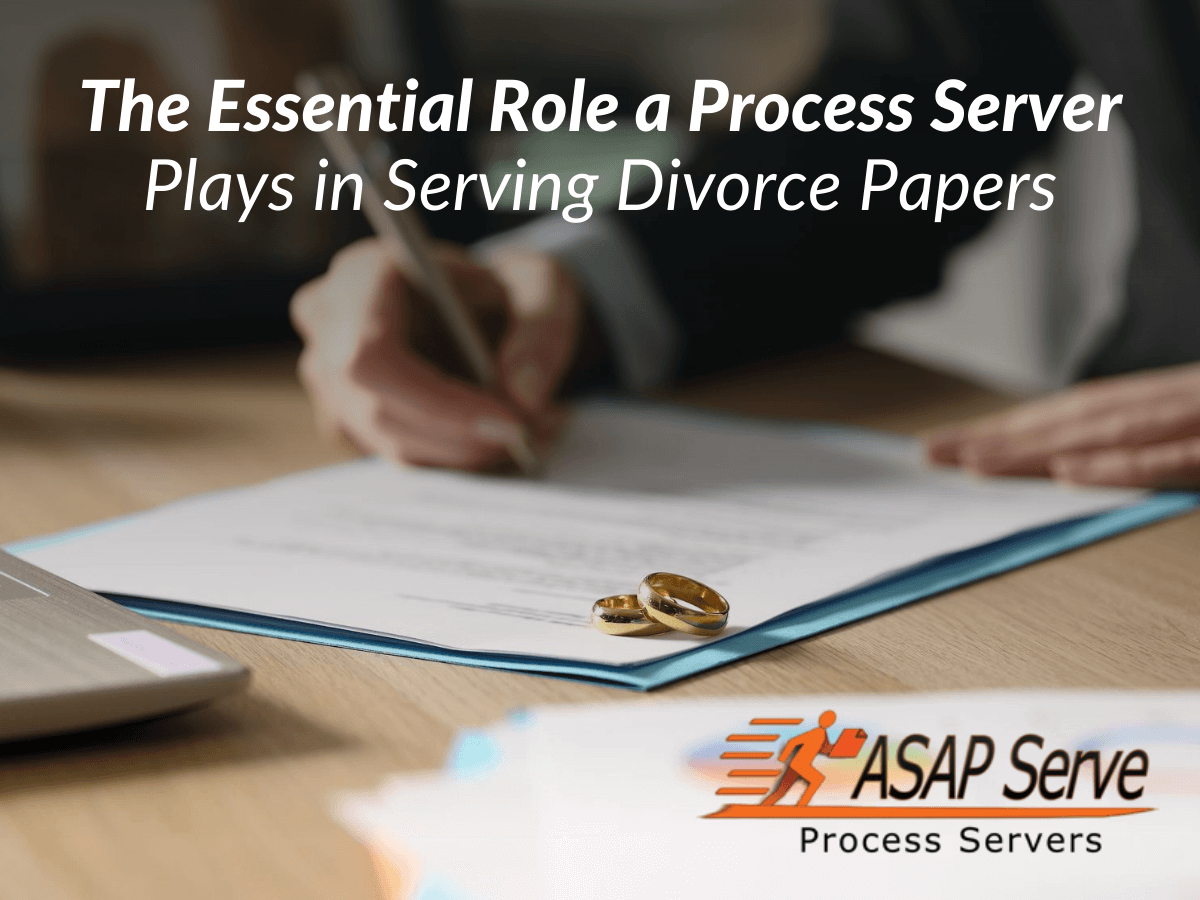 Safe Timing
Domestic abuse can be a common reason that people seek to leave their spouses. If there is physical abuse, it is very important that the divorce process server has the right timing. Otherwise, the server can put the abused spouse in danger by angering the abusive spouse.
Professional servers are sensitive to these issues, and they will determine the appropriate time to serve the abusive spouse so as to minimize risk to the abused. The server can also serve notice of a temporary restraining order or other order put in place to protect the abused spouse.
Sensitivity to the Children
Many married people have children. Even if they have told their children that they plan to separate or divorce, the arrival of a process server to serve official paperwork can be very upsetting for children, especially if they are very young. Upset children can then make the situation even more emotionally fraught, which can lead to contention and draw the whole process out.
A good Gilbert divorce process server will time delivery of the paperwork when the children are not expected to be home. If some miscommunication occurs, or there is an unexpected change in schedule and the kids are home when the server arrives, the server knows how to conduct the business discreetly with the least amount of disruption.
Find People Who Try to Avoid Detection
A lot of people who know that they are going to be served with legal paperwork will do just about anything to avoid the process server and delay that process. They know that if they can't be served with the paperwork, the lawsuit, the paternity suit, or even the divorce proceedings will be halted – even if only temporarily. Some people may just avoid phone calls. Others may change up their routines. Some may take extreme measures such as changing jobs, moving, or even donning a disguise.
Process serving companies have all kinds of resources at their disposal to track down people, even when they are going out of their way not to be found. They can find elusive people and get the legal process started more quickly. You don't have to worry about your divorce process lingering because your ex is trying not to be found. If you're a divorce attorney, you don't have to worry about your case stalling and your client becoming unhappy.
Hiring a process server in Chandler is key to getting your case started right, and that is especially true in a divorce proceeding. But not just any process server will do. You need to hire a professional with the right training and plenty of experience. It's important that you hire a server who has experience specifically as a divorce process server serving Arizona– someone who knows the sensitive circumstances that are part of divorce cases and who knows how to respond to them appropriately.
ASAP Serve is a respected Mesa process serving company handling all types of cases. We have experienced divorce process servers who can get your divorce paperwork served quickly and with the proper sensitivity so that your case can move forward without any early obstacles. Our servers also handle child custody cases, adoptions, paternity cases, and a variety of other family law issues. They also provide court document delivery, court research service, and court filing service. They are reliable professionals who can handle any kind of case, and they are experienced in finding people who don't want to be found. Fill out our online request form, or call us today to get your case started.
Published By – ASAP Serve, LLC