The Essential Role Process Servers Play in the System
You may not know what a process server is or why you would ever need one until you are involved in a legal matter. Or you may have some vague idea of process of service from watching movie or TV shows – where the whole process is likely dramatized with defendants running away from process servers or even donning costumes to elude them.
Having a proper understanding of what process servers in Arizona do can help you understand their essential role in the legal system – as well as why you really need them if you are bringing legal action against someone. Here's a closer look at what process servers do and why that's important: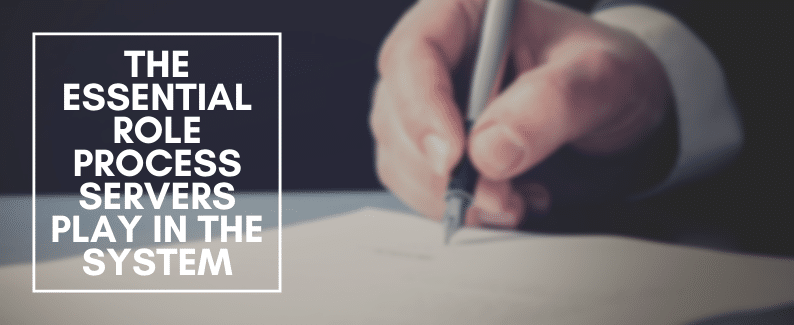 What Do Process Servers Do?
Whenever you bring a legal action against someone – whether it's a lawsuit, a divorce, or a child custody collection – you must first notify the person of the action. You can't just tell them that through an email or a phone call. You have to do it officially through process of service, which involves delivering the documents to them within a certain time frame.
You can't just tell the courts that you delivered the documents and call it a day. You need to have proof of service. Otherwise, a lot of unethical people would claim to deliver the documents but not actually ever tell the person of the coming legal action. Then the defendant wouldn't show up in court, and the plaintiff would have a higher likelihood of success.
A process server is a professional who can handle this court document delivery and provide proof of it. You don't have to do the work, and you don't have to worry about service being contested.
Why they are So Essential
Process servers help you to start your legal proceedings. Yes, you can perform process of service yourself, but a lot more can go wrong if you don't leave the job to the professionals.
Process serving companies have the tools and the strategies to perform service quickly. They can find people who don't want to be found through extensive background research, including social media investigations. They can even interview associates to track down a person whose whereabouts have not been known for some time.
Whether the person is easy or hard to find, process servers also provide irrefutable evidence of process of service, which ensures that your case can move forward. Their fast and professional service expedites your case, which you want when you are dealing with a stressful matter like a divorce or a lawsuit. In some cases, their fast service can even make or break your case, such as when you are bringing suit before a statute of limitations expires.
Other Services
Though they are called process servers, these professionals do much more than perform process of service. They can also perform court research service, court document filing, and more. They can help you get the information you need and to file the paperwork that you must on time.
If you are working alone without a lawyer, a process server can help you get the documents you need when you need them to keep your case on track. If you are an attorney, a process server can take some of the load off your team so you can focus on more pressing matters.
Process servers perform an important role in the legal process. You should consider hiring one if you are an individual trying to handle a case on your own without an attorney. If you are an attorney, you should consider hiring one to streamline your case management so that you can work more quickly and put your energy and resources into more important matters in the case.
ASAP Server is a trusted Mesa process serving company offering a full range of services for individuals and attorneys. We offer fast service of process, as well as court document filing and court research service. Our trusted professionals will provide the service and documentation you need to move your case forward quickly and successfully. Simply fill out the form to get started, or contact one of our friendly and knowledgeable representatives. Find out why we are considered one of the best process serving companies in Mesa!
Published By – ASAP Serve, LLC
1837 S Mesa Dr C102
Mesa, AZ 85210
Office: 480-821-1552
2820 S Alma School Rd, #18
Chandler, AZ 85286
Office: 480-351-1743
14245 S 48th St #148
Phoenix, AZ 85044
Office: 480-845-0728
2509 N Campbell Ave #236
Tucson, AZ 85719
Office: (520) 448-4929