5 Signs of a Process Serving Scam
Process servers play an important role in the legal process. They deliver important court documents and notifications to defendants and other important parties in a lawsuit or other legal action. You cannot move a case forward if you don't deliver process of service to a defendant, and you may not be able to call a witness without process of service.
Unfortunately, there are many people out there who know this and want to take advantage of it. They may pose as process servers but only be there to talk your money. Or they may be licensed and qualified process servers, but they take advantage of their position to make money unethically.
Here are five signs to look out for that you may be dealing with a process serving scam: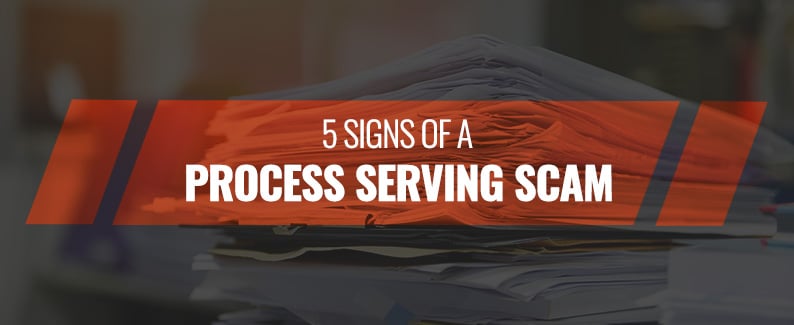 Offer to Pretend they Couldn't Find You
In most situations, a court case cannot proceed if you have not been officially notified of the action against you. A process server is there to give you that notice and to provide evidence of it for the court.
If a process server ever offers to pretend they couldn't find you, they are behaving unethically. Usually, the person would offer to do it in exchange for money or for some other item of value or service. If someone does this to you, you should not agree to the offer, and you should report it.
Offer to Make the Case Go Away
Because a court case usually cannot proceed until the defendant has been served, a person committing a process serving scam may claim to be able to make your court case go away by failing to serve you. However, there are other ways that you can be served, and the plaintiff or the plaintiff's lawyer may hire another server if the first one cannot complete the process of service.
Never believe someone who claims they can make your case go away. No one can do this except a judge.
Making Harassing Phone Calls
A process server should show up in person to serve your papers. You should not receive phone calls inquiring about your whereabouts or making threats if you don't turn up to accept the documents. Process servers should always behave professionally, and they should always follow the law. If you are receiving harassing phone calls, you should report them.
Attempting to Negotiate Debt
You may be getting served because a lender is trying to collect a debt. An unethical process server trying to scam you might claim to be able to negotiate your debt. But a process server does not have this power. Any money you turn over is just going to go in their pocket. The case against you will continue, and you will owe just as much as you did before.
Trying to Collect Money for the Case
After serving you, someone trying to scam you might try to collect money from you, supposedly for the case. The person might claim that they need to collect court fees, attorney fees, or some other expenses. Again, this is never going to be true. Your attorney will always bill you directly, and you will always pay court costs through the appropriate channels in the building.
You aren't a lawyer and you may feel nervous and intimidated when you become involved in a legal proceeding, which can make you vulnerable to being manipulated. Knowing about these common process serving scams can help you protect yourself. If you encounter any of these potential scams, contact the authorities right away.
If you are an attorney or an individual in need of a legitimate process serving company that will perform service without committing any ethical or legal violations, call ASAP Serve. We are a reputable Mesa process serving company providing court document delivery, filing service, research, and more. We provide service for all types of cases, including adoptions, child custody, lawsuits, collections, and more. We also serve subpoenas and other court documents. To get started, call us now or simply fill out the form on our site to let us know what you need. A process server will be in touch to learn more and to get started on your case.
Published By – ASAP Serve, LLC
1837 S Mesa Dr C102
Mesa, AZ 85210
Office: 480-821-1552
2820 S Alma School Rd, #18
Chandler, AZ 85286
Office: 480-351-1743
14245 S 48th St #148
Phoenix, AZ 85044
Office: 480-845-0728
2509 N Campbell Ave #236
Tucson, AZ 85719
Office: (520) 448-4929