A Holiday Process Serving Guide that Every Process Server Must Follow
Serving a defendant in a legal case during the holidays can be challenging, but it is necessary. Though we might love for the world to stop so that we can spend time with family and friends, eat good food, and maybe exchange a gift or two, things just don't work that way.
Custody cases continue, lawsuits move forward, and people still get divorce. And all those cases mean that someone has to get served legal paperwork.
Understanding how process servers work during the holidays can help you plan appropriately when filing the paperwork for your case. Here's what you need to know: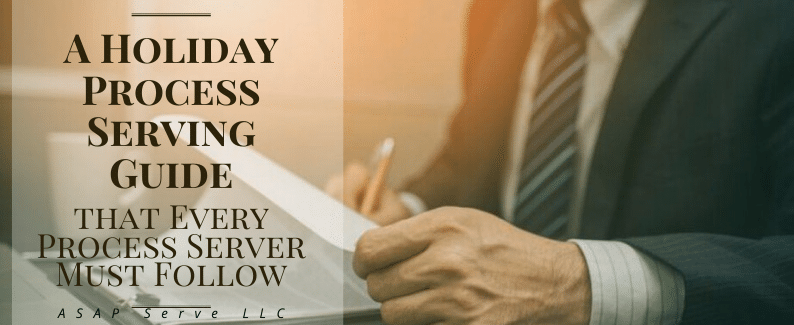 Heightened Emotions
Process servers should be fair, firm, and respectful when delivering court documents. However, many people have heightened emotions around the holidays, and that can make the work more difficult. Someone who is getting served divorce or custody papers during the holiday is more likely to get angry, to cause a big scene, or even to become physically violent. Those heightened emotions can also make process servers more emotional, but the professionals know how to keep these things in check and to behave appropriately.
Process servers do need to know how to protect their own safety in case of a turbulent encounter with a defendant. Many will put measures in place to protect themselves, including only serving defendants in public places.
Personal Time Off
Process servers want to take time off around the holidays to spend with their families also. If you need service during the holidays, you may find that your options are limited. Either you may not be able to find someone who's available, or you may find that process servers are operating on limited hours. You may have to give yourself more time to get service completed, which means reaching out to servers much earlier than you might have if it weren't the holidays.
Increased Rates
Expect to pay a premium to process serving companies during the holidays. Again, no one wants to be at work, so if process servers are putting in the time, they are going to expect to get paid more for it. You will need to learn the charges and then factor those increased costs into your legal fees.
Not all process serving companies will charge more for the holidays, and even those who do will have some variation in what they charge. The key is just to be aware of the possibility and to get the information up front so you can plan accordingly.
Emergency Actions
Even if a process server is on vacation during a holiday or has limited availability, you are likely to get a faster response and more willingness to help if you have an emergency situation, such as if you need to file a custody order for a child that is in an abusive or dangerous situation. Many process serving companies have a limited staff during the holidays, but they are more willing to put one of their servers on the job if there is a sense of urgency in the case because of emotional or physical safety.
Locating Defendants
In some ways, calling on a process server during the holidays can make it a little easier on your case. If you have a defendant who is likely to skip town or try to dodge the process server, the holidays can be a good time to find the person. That's because they are more likely to be where their family is to visit, and they are more likely to stick around a while. They are also less likely to cause a scene in front of their family and friends.
If you are dealing with such a defendant, you may want to hire a process server over the holidays to see if you can get the results you need.
The holidays can be a wonderful time of year, but they can also pose complications for the usual business of things. If you are bringing a legal case during the holidays, you may notice delays in court schedules, getting calls back from your attorney, and in getting process of service completed. It's important that you know these things going in so that you can make adjustments as needed.
In Mesa, ASAP Server offers fast process of service 24 hours a day, 7 days a week, all year long. We are committed to providing efficient process serves for all types of cases. We also offer court document delivery and a court filing service, making your legal work a little easier during the holidays. Call us today or fill out our online form to discuss your needs.
Published By – ASAP Serve, LLC
1837 S Mesa Dr C102
Mesa, AZ 85210
Office: 480-821-1552
2820 S Alma School Rd, #18
Chandler, AZ 85286
Office: 480-351-1743
14245 S 48th St #148
Phoenix, AZ 85044
Office: 480-845-0728
2509 N Campbell Ave #236
Tucson, AZ 85719
Office: (520) 448-4929