6 Surprising Rules that Process Servers Have to Follow
Process servers have a tough job. Not only do they have to go to great lengths to find someone who typically does not want to be found, but they also have to do the job while following some very strict rules. The law is explicit about what process servers can and cannot do in the course of their jobs. So, even if it would be easier to find someone by rifling through their trash and figuring out all the places they go, process servers still can't do that.
There are a lot of rules that process servers have to follow that might surprise you. Here are six: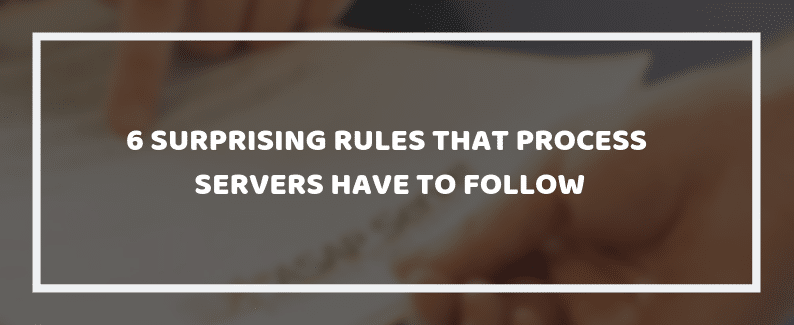 Be Honest about Who They Are
Process servers cannot pretend to be delivering a pizza to someone and then handing them court documents instead of a pie. You may have seen these kind of tactics in movies, but they are actually illegal. Process servers have to be honest about who they are. They cannot lie about their job or their motivation. They have to make it known that they are process servers and that they are trying to locate a person of interest to serve them with legal documents.
Do Not Impersonate Law Enforcement
Since process servers are delivering legal documents, some people may think that they have legal authority. Some unethical process servers might use that perception to their advantage, and they might pretend to be a law enforcement officer. This is illegal. Process servers cannot pretend to be police officers. Even those process servers who actually are police officers but who do process serving part-time cannot use their police credentials in their job.
Leave the Mailbox Alone
It is a federal crime to open another person's mailbox or to go through a stack of their mail, even if the mail is somewhere in view outside of the mailbox. Process servers cannot leave notices in a mailbox, and they cannot look in a mailbox for signs that the person has been home or for information about where the person might be. Process servers can send items in the mail, through the U.S. Postal Service, but meddling with the mail or mailbox in any other way is a crime.
Do Not Break into a Home or Building
Process servers cannot enter a home or private building unless they are invited to do so. They cannot pick the lock to enter a house, nor can they enter if the door is already unlocked. They cannot push their way inside after a person opens the door, nor can they put a foot in the crack to prevent the door from being closed. Process servers must abide by the law in all aspects of their jobs.
Stay Off Private property
If a home or a piece of private property has a sign that says "No Trespassing," that applies to process servers also. Some state or local laws exempt process servers from this rule, but many do not. Process servers must get permission to come onto the property, or they must try to find the person in another location.
Know the Rules
Rules for process servers can vary by state and locality. Process servers cannot claim ignorance of the law as a defense for wrongdoings. It is their responsibility to know the rules, no matter where they are. If they violate the rules, they are subject to criminal punishment, as well as fines.
Knowing what the rules are for process servers can help you find a professional who is ethical and legally responsible. There are plenty of servers who will break these rules, but they shouldn't. You could undermine your whole case if you employ a server who breaks these rules. Check out the server's reputation and look for claims filed against them to know if you are getting a good server. You should also check the person's criminal record.
ASAP Serve is a reputable process serving company in Arizona, serving the Phoenix Valley Area. We have a reputation for fast and ethical service. We can find even the most elusive people, and we can do it quickly and with the right documentation. We also perform skip tracing and asset investigations to help your case. Call us today to learn more about our services, or put in an online service request to get started.

Published By – ASAP Serve, LLC
1837 S Mesa Dr C102
Mesa, AZ 85210
Office: 480-821-1552
2820 S Alma School Rd, #18
Chandler, AZ 85286
Office: 480-351-1743
14245 S 48th St #148
Phoenix, AZ 85044
Office: 480-845-0728
2509 N Campbell Ave #236
Tucson, AZ 85719
Office: (520) 448-4929
*ALL LOCATIONS BY APPOINTMENT ONLY