Process Servers and Trespassing: What are the Rules?
You need to serve paperwork to the person you are suing or divorcing for your legal proceedings to continue. Without that official process of service, your case will remain at a standstill. Many people know this, and they will try to avoid process of service to stall the case or keep you from getting the results you want.
When trying to track down the other party in your case, you may find yourself showing up to a variety of locations at all hours of day. However, doing so may land you in trouble with the law if you aren't careful. You may find yourself on property that you aren't legally allowed to be on, as well as breaking a number of other laws.
Whether you are trying to serve process yourself or you have hired a professional process server to do it for you, the laws must be obeyed. Here are a few things you can do to be sure you aren't violating any laws about trespassing: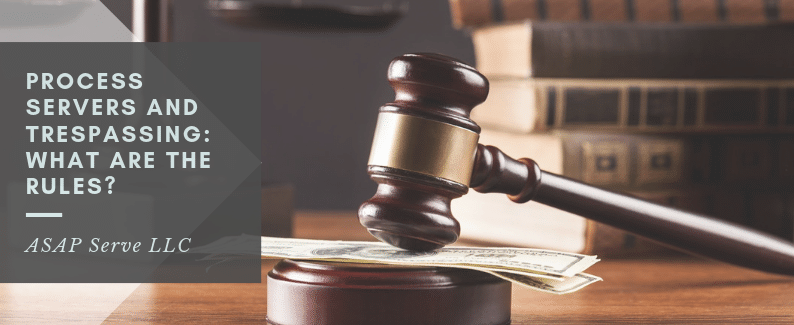 Research the Local Laws
A good process server should already know the laws of the area in which he or she operates. But if you are trying to perform the service of process yourself, you should be sure to research what the local laws are regarding where you can be when you are performing that task. You can't plead ignorance of the law as a defense of it.
If you do hire a process server, make sure it is someone who has been licensed and operating in the area for a while. You don't want your case to be jeopardized by someone running afoul of the law.
Check Out Different Location Options
The defendant in a case may live in a gated community that has strict laws against trespassing of any kind. If that's the case, you don't have to serve the defendant at home. You can serve that person at work or while they are out to dinner or some other event. You should assess the person and the situation carefully to determine the best place and time to perform process of service without breaking any laws.
In general, trying to serve someone in a public place is always best. You won't risk a trespassing charge in a place that everyone is entitled to be. However, if you have to go into another location, make sure you know what kind of a place it is and what the laws are first.
Hire a Process Server
In almost all cases, it is best to hire a professional process server for your case instead of trying to do it yourself. Not only will the process server be knowledgeable about the laws, but he or she will also know the most effective strategies for finding the defendant and completing process as quickly as possible.
A professional process server should also be part of local associations that will help him or her stay up-to-date about local laws and other changes in the profession. What was once ok for a server to do may not be ok with the passage of certain laws or ordinances. A good professional should be committed to staying in-the-know about any changes that would affect his or her business.
If you are bringing legal action against someone, make sure you take the time to research process servers in your area and hire the best one you can afford. You'll be able to get fast service so that your case moves forward quickly and without any problems. You'll end up saving yourself a lot of trouble and money in the long run.
ASAP Serve can help if you need a process server in Mesa or the surrounding area. Our company handles court document delivery for all types of cases, including divorces, child custody suits, adoptions, personal injury claims, and more. We also provide subpoena process service and more. Our professional process servers are committed to getting fast and accurate results to improve the chances of success for your case. Contact us in Mesa today to talk about your needs for a legal process server, or use our simple intake form on our website to get the process started.
Published By – ASAP Serve, LLC
1837 S Mesa Dr C102
Mesa, AZ 85210
Office: 480-821-1552
2820 S Alma School Rd, #18
Chandler, AZ 85286
Office: 480-351-1743
14245 S 48th St #148
Phoenix, AZ 85044
Office: 480-845-0728
2509 N Campbell Ave #236
Tucson, AZ 85719
Office: (520) 448-4929