Implementing Successful Social Media Investigations When Process Serving
When people know that you're going to sue them or take some other legal action against them – such as making them take a paternity test or pay child support – they have a funny way of disappearing. Some people will go to great lengths to not be found, which means that you can't serve the legal papers to begin your action and it will take much longer to get what you need. Some people have just moved and lost touch, so it can be difficult finding them when you need them.
Fortunately, the Internet has made it much easier to find people – especially social media. Here's how you can use it successfully to find people, and how an Arizona professional process server will use it also: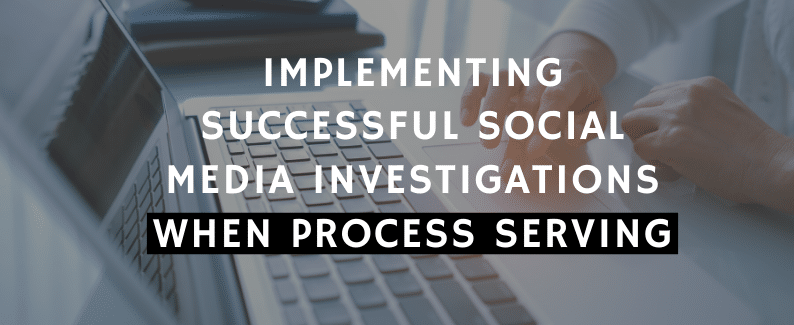 Start with Search Engines
There are more than 100 social media sites out there, even though you may only use one or two. You don't know where the person you are searching for might have a presence, and you don't want to have to go to each of those sites to look for them.
Start your search with the major search engines Google and Bing. See what hits you get both online and on social media. That may give you enough information, or it may help you focus the next stage of your search.
Look for Social Accounts
Start with major social networks like Facebook, Twitter, and Instagram, and search for the person you want to find. Use their full name and other tags like location. If the person has a common name like "Jane Smith," the more information you can include, the better.
If you turn up nothing with their name, try nicknames and aliases. For example, "Chris Jr." might be listed as "CJ," and "Benjamin" might be listed as "Ben." Also try using the person's first name and middle name, which is a growing trend for social media handles.
Look at Friends' Accounts
Many people use completely made up names to disguise themselves on social media. You may need to search through the profiles of known friends and acquaintances to find those people.
For example, someone named Joe may actually go by "The Man" on Facebook, or a Sheila may spell her name Schhheeelllaaaa just to avoid being found. People know that potential employers and others will look for them on social media to find information about them, and they know that incriminating information can be used against them.
They don't want to be overly cautious about what they share, so they try to make it hard to find their profiles instead.
Take Screenshots
When you do find information on social media, you can't take for granted that it will continue to be there when you need it. Profiles can be deleted, as can posts, or privacy settings can be changed so that you can't see anything.
If you do find a profile or a post that is helpful in locating a person or in proving their behavior, you should take a screenshot to preserve that information. You may need it to continue your investigation or to prove your claims in court.
Use Social Listening Tools
If your initial efforts finding a person on social media prove fruitless, that doesn't mean that you will never get results. However, you may not want to spend a lot of ton searching the Internet and social media hoping for new results.
You can use social listening tools to help you find information as it becomes available. You can set up alerts for a person's name or the names of their associates to get updates as they are available. You'll save time and still get the information you need.
Quick process of service can move your legal case along so that you can get the resolution you need. Without proper service, your case will be delayed and maybe even jeopardized. You can conduct your own process of service and even track down people through investigative tools like social media, but you will get better results if you hire a professional process server instead.
ASAP Serve can help you locate and serve the people in your legal action. Our process servers are experts at finding people who don't want to be found, and they will use social media and a variety of other tools to locate defendants and witnesses quickly. Just fill out our online form or call us in Mesa today to discuss your needs and move your case forward.
Published By – ASAP Serve, LLC
1837 S Mesa Dr C102
Mesa, AZ 85210
Office: 480-821-1552
2820 S Alma School Rd, #18
Chandler, AZ 85286
Office: 480-351-1743
14245 S 48th St #148
Phoenix, AZ 85044
Office: 480-845-0728
2509 N Campbell Ave #236
Tucson, AZ 85719
Office: (520) 448-4929