5 Things You Didn't Know about Skip Tracing
Skip tracing is the process of finding someone to serve them papers for a lawsuit or another legal matter. Some people will intentionally evade detection or even leave town if they know that serious legal action is pending. Yet some legal processes can't move forward if the parties are not served with the proper paperwork.
Working with a good process server can ensure that you get the proper service to move your legal claim forward. Knowing as much as you can about the process can help you choose the right server and make the right preparations. Here are five things you didn't know about skip tracing: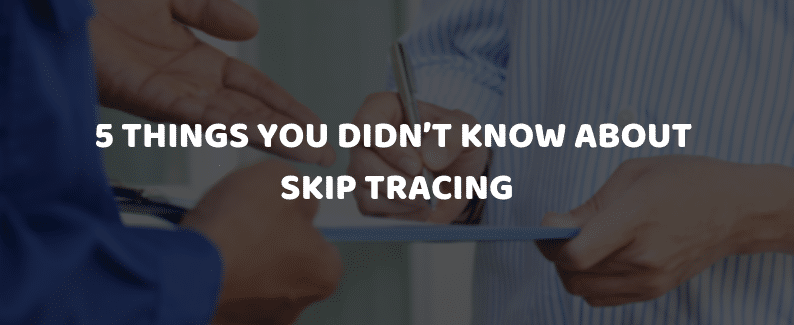 Types of People Involved in Skip Tracing Cases
Skip tracing cases can involve any person whose whereabouts are not know. However, some common types appear in these cases. Some of the most common types of people involved in skip tracing cases include:
Witnesses for lawsuits
Those accused of fraud
Debtors who are in default
Estate heirs who are missing and don't know about their inheritance
Defendants who are evading being located
Process servers will use skip tracing to track down any person who can't be found, but these are some of the people mot commonly involved in these types of cases.
Information that Can be Found
Servers use skip tracing to find a person in order to give them legal documents notifying them of the action being taken against them. In their quest to find the person, process servers usually find the following types of information:
Current address
Phone number
Place of work
Social Security Number
ID or driver's license number
Any of these pieces of information can help the process server locate the person to deliver the legal documents for the case.
Sharing Information
Usually, a process server has hire a private detective to locate people for skip tracing, or they keep a licensed private detective on their team for such cases. Any information that the private detective finds can only be disclosed to another person if there a viable reason for doing so. Sharing that information with a plaintiff in a lawsuit is a clear example of suitable sharing.
Methods for Finding Information
Private detectives and process servers use a variety of methods to find information that can help locate a person. Most will start with public sources of information, such as property tax records, marriage licenses, and arrest records. Then they will turn to specialized databases that contain more sensitive information, such as social security numbers or employment records. Only licensed and approved people can access certain databases, which is why it is so helpful to hire a reputable process server if you need to locate someone for a legal matter.
Other Uses for Skip Tracing
Skip tracing isn't just used for legal process of service. People can hire a process server or private investigator to conduct skip tracing for other reasons. One of the most common reasons people invest in skip tracing is to find missing relatives, such as those who have fallen out of touch or those who are suffering mental issues and have gone missing.
When you are trying to bring legal action against someone and they go missing – either intentionally or through circumstance – it can be frustrating. You may feel that justice is being denied you. By hiring an experienced process server, you can find the person through skip tracing. You'll be able to serve the legal documents necessary to continue with the case, and you can begin seeking the redress you feel you deserve.
ASAP Serve is ready to help you. We offer service of process in the Phoenix Valley Area in Arizona. Our efficient and reliable process servers help attorneys and individuals with matters like court filings, record retrievals, skip tracing, asset investigations, and routine process of service. Our team is committed to fast and proper process service using a variety of techniques and resources. To get started, you need only fill out the service request on our site and make payment. You can also talk to one of our associates about your needs on the phone. Our process is simple, fast, and effective. Call us today to get started.

Published By – ASAP Serve, LLC
1837 S Mesa Dr C102
Mesa, AZ 85210
Office: 480-821-1552
2820 S Alma School Rd, #18
Chandler, AZ 85286
Office: 480-351-1743
14245 S 48th St #148
Phoenix, AZ 85044
Office: 480-845-0728
2509 N Campbell Ave #236
Tucson, AZ 85719
Office: (520) 448-4929
*ALL LOCATIONS BY APPOINTMENT ONLY