Process Server Tech and How It Can Help Find People
It's not always to find people when you want to sue them. In fact, most people will go out of their way to not be found if they know they are going to be subject to legal action. Yet you have to officially serve people if you are going to take legal action, such as bringing a civil suit or initiating divorce proceedings. These cases cannot go forward if the other party is not officially served the paperwork.
Fortunately, legal process servers are available to do this work for you, and they have the tools and experience to find just about anyone in the right amount of time. One of the best tools on a process server's side is technology. Here are just a few of the tech tools that process servers use and how they help the servers find people: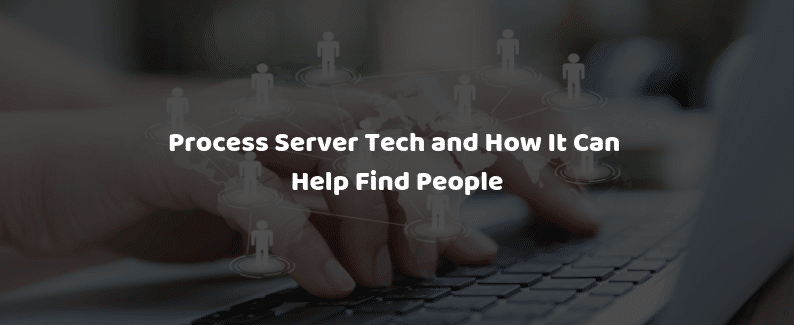 GPS
GPS stands for Global Positioning Systems, and it is used to find locations. The maps application on your phone uses GPS to tell you where a doctor's office is or where that hot, new restaurant you want to try out is. Process servers use GPS to determine where a person's home, workplace, or other frequented place is located. This technology reduces error for showing up in the wrong location and potentially alerting a person that legal process of service is coming. The technology also makes it possible for process servers to act more quickly.
Social Media
People will hide from legal action if they can. They may move without leaving a forwarding address, change jobs, or even stop talking to mutual friends or acquaintances. You may not have any information about where they are or what they are up to these days. Process servers can often locate people with very little information. Social media can sometimes be useful in their search. It can shed light into where a person lives, where they work, or even their interests, which can indicate where they might be. Some people can share so much on social media that it's possible to figure out their schedules and where they are on any given day. That is very valuable information to a process server, who can use it to figure out when to deploy process of service.
Mobile Apps
There's an app for everything these days, and process servers can use some of them to figure out where people are and to serve them legal documents. Process servers may use apps that help them locate defendants, help them to identify them, help them to document the service, and more. Process servers only use apps that can lead to a verified process of service.
Public Records Data
So much data is available online these days, and process servers use it all to help them find people and to serve them. Examples include property tax records, arrest records, marriage licenses, name change notices, divorce filings, business filings, and even bankruptcy notices. Any of this information can help process servers determine where a person lives, where they work, who they might associate with, and even whether they've changed their name. Much of this information can be accessed online or even on mobile apps.
Professional process servers will use whatever tools they can to find people quickly and to accurately serve them with the legal papers needed to start a proceeding. Technology offers some of the most useful tools of the modern age, but process servers can use everything from library research to good old-fashioned investigative skills to find people. It's important that you always work with reputable, professional process servers to know that they are using legal and ethical means to complete your process of service.
ASAP Serve can complete timely process of service for you. Our professional servers work with attorney's offices, companies, and individuals to perform process of service. They provide the necessary documentation proving that the process of service was completed so that there are no hang ups for your legal proceeding. Filling out a request is easy, and we will complete the request as quickly as possible. We also offer skip tracing for those who cannot be found. Contact us today to let us know how we can help you.

Published By – ASAP Serve, LLC
1837 S Mesa Dr C102
Mesa, AZ 85210
Office: 480-821-1552
2820 S Alma School Rd, #18
Chandler, AZ 85286
Office: 480-351-1743
14245 S 48th St #148
Phoenix, AZ 85044
Office: 480-845-0728
2509 N Campbell Ave #236
Tucson, AZ 85719
Office: (520) 448-4929
*ALL LOCATIONS BY APPOINTMENT ONLY