Things to Avoid Once Youve Been Served
Most of the time, you know when to expect to be served with some legal paperwork. Your wife told you that she wants a divorce, and then a process server shows up a few days or a few weeks later with the divorce papers. A friend has told you that you're going to be called as a witness in their lawsuit against your employer, and then a process server shows up with the subpoena.
Sometimes, you are totally shocked to hear someone tell you that you're being served with legal papers. You didn't expect that person you rear ended at the light to sue you. You didn't expect your business partner to claim a breach of contract.
But whether you were expecting to be served or not, you have to take the right next steps. Sometimes, it's more helpful to know what NOT to do to counteract your unhelpful impulses in the heat of the moment. With that in mind, here are a few things you should be sure to avoid once you've been served with legal paperwork: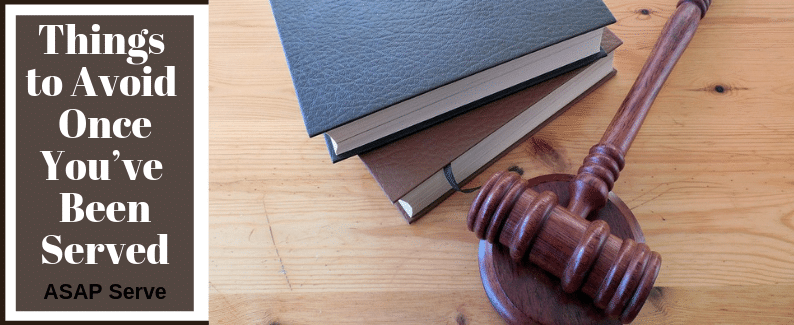 Don't Ignore It
You can't just ignore being served. It doesn't matter if you've never heard of the plaintiff taking action against you or if you have no idea what prompted the matter. It doesn't matter if you think the papers weren't served properly or some other violation has taken place. You MUST respond to the paperwork.
Responding might mean sending a written response, or it might just mean showing up in court on the date provided. If you don't respond, the case can be automatically decided in favor of the plaintiff. You must speak up for yourself, and ideally, you should do it with the assistance of a lawyer to ensure that you are protecting your legal rights.
Don't Skip the Deadline
Once you have been served your legal papers, you will have a certain timeline for responding. In many cases, you have about 30 days to file a response. However, the exact deadline will be listed on the paperwork.
You should not skip this deadline. This is the opportunity to clear up any issues. This is the time that you get a lawyer and file a response that says you don't know the plaintiff or that the accusations have no merit. Your response won't end the case, but it will show the judge that you aren't just accepting the accusations. You'll be able to expound in court.
Don't Refuse to Go to Court
Sometimes, a court date will be listed on the papers you are served. If that is the case, you must go to court – and you should take a lawyer with you. The court date may be little more than a formality, such as if you are agreeing to an absolute divorce, but it is important that you go. If you do not show up, the case can be decided in the plaintiff's favor, which can end up costing you quite a lot, depending on your case.
You should always take service of process seriously. This is the first step in a legal procedure that can have big consequences for you. Talk to a lawyer about your next steps, and then proceed as advised. But whatever you do, DON'T just ignore the paperwork or the deadline. You'll end up causing yourself a lot more trouble if you do, from huge financial consequences to legal penalties.
If you need to deliver process of service to someone, you should contact ASAP Serve to hire a professional process server in Mesa. Our experienced professionals ensure that service is completed properly and in a timely manner so that your case can move forward quickly and without any obstacles along the way. We provide service of process for individuals, lawyers, businesses, and more for a variety of cases, including divorces, lawsuits, business contracts, and criminal cases. We also specialize in skip tracing to find those defendants and witnesses who cannot be found (or who are trying to avoid being found). To begin, just fill out the easy form on our website or call one of our representatives. Our trusted and reliable process servers are ready to deliver the results you need.
Published By – ASAP Serve, LLC
1837 S Mesa Dr C102
Mesa, AZ 85210
Office: 480-821-1552
2820 S Alma School Rd, #18
Chandler, AZ 85286
Office: 480-351-1743
14245 S 48th St #148
Phoenix, AZ 85044
Office: 480-845-0728
2509 N Campbell Ave #236
Tucson, AZ 85719
Office: (520) 448-4929